Description
The Leddar M16 Sensor Module is an advanced sensing solution that combines 16 independent active elements into a single sensor, resulting in rapid, continuous and accurate detection and rangingط£آ¢أ¢â€ڑآ¬أ¢â'¬آ¢including lateral discriminationط£آ¢أ¢â€ڑآ¬أ¢â'¬آ¢in the entire wide beam, without any moving parts.
The versatile Leddar M16 module can be easily integrated to add cost-effective, smart sensing capabilities to almost any application, enabling developers and integrators to make the most of this cutting-edge technology. Various beam options, creating different fields of view ranging from 9 to 95 degrees, are available to provide the best possible match to your requirements.
ط¢آ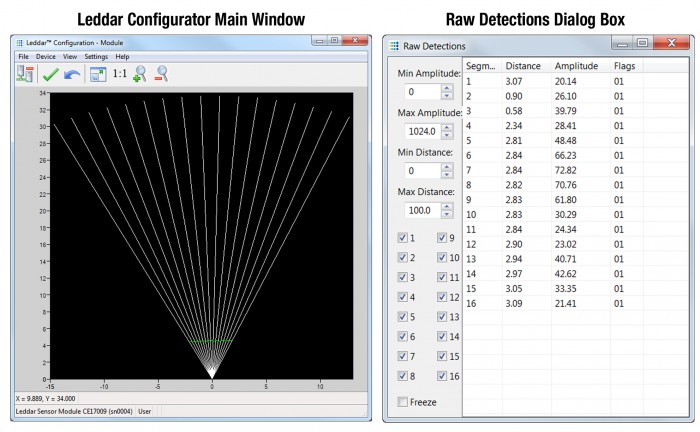 The modules come with the Leddar Enabler SDK, which provides a user-friendly application programming interface (API) with .Net and C libraries, complete with code examples. Sample code for RS-485/MODBUS for both Windows and Linux, as well as LabVIEW and MATLAB integration examples are also provided.
Benefits:
Proven reliability, even in harsh conditions
Immune to ambient light
No moving parts, for ultimate robustness
Easy to integrate, includes Leddar Enabler SDK
Low power consumption
Best cost/performance ratio
Payment & Security
Your payment information is processed securely. We do not store credit card details nor have access to your credit card information.