Description
This is a non-contactwater / liquid level sensor for Arduino. It utilizes advanced signal processing technology by using a powerful chip (XKC-Y25-T12V) with high-speed operation capacity to achieve non-contact liquid level detection. No contact with liquid makes the module suitable for hazardous applications such as detecting toxic substances, strong acid, strong alkali, and all kinds of liquid in an airtight container under high pressure. There are no special requirements for the liquid or container

Specification
Operating Voltage (InVCC) : DC 5 ~ 24 v
Current consumption: 5 mA
Output voltage (high level) : InVCC
Output voltage (low level) : 0V
Output current: 1 ~ 50 mA
Response time: 500 ms
Operating Temperature : 0 ~ 105 ℃
Range for thickness of induction (sensitivity): 0 ~ 13 mm
Humidity: 5% ~ 100%
Material: ABS.
Waterproof performance: IP67
Dimension : 28 * 28 mm / 1.1 * 1.1 inches
Board Overview

The liquid level sensor is equipped with an interface adapter that makes it compatible with DFRobot "
Gravity
" interface. Four levels of sensitivity can be configured by pressing the SET button.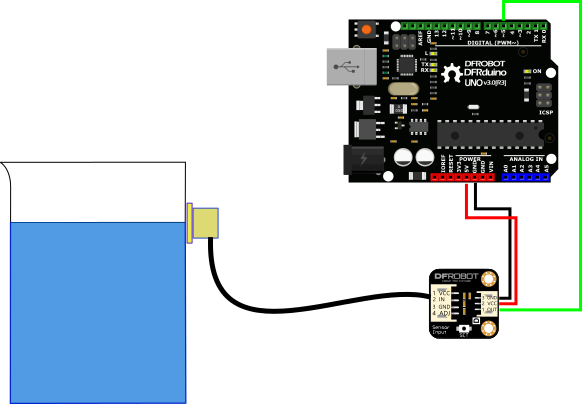 Payment & Security
Your payment information is processed securely. We do not store credit card details nor have access to your credit card information.