Description
This Electronic Arduino
Weight Sensor
is able to detect 1kgط¢آ 
weight. ط¢آ It based on HX711, a precision 24-bit analog-to-digitalط¢آ 
converter
ط¢آ designed for weight scale and industrial control applications to interfaceط¢آ directly with a bridge sensor.ط¢آ 
This Electronic arduino weight sensor lowers the cost of the electronic scale, and at the same time improving the performance and reliability. The interface of this sensor uses ط¢آ 
DFRobot Gravity Interface
. The output adopts compact terminal that makes the
sensor
easier to connect. It's the best choose for electronic enthusiast to do some tiny home scale.
ط¢آ 
Sensor connection Noteط£آ¯ط¢آ¼ط¥طŒRed Line ط¢آ  ط¢آ -- E+
ط¢آ 
ط¢آ  ط¢آ  ط¢آ  ط¢آ  ط¢آ  ط¢آ  ط¢آ  ط¢آ  ط¢آ  ط¢آ  ط¢آ  ط¢آ  ط¢آ  ط¢آ  ط¢آ  ط¢آ  ط¢آ  ط¢آ  ط¢آ  ط¢آ  ط¢آ  ط¢آ  ط¢آ  ط¢آ  Black Line ط¢آ -- E-
ط¢آ 
ط¢آ  ط¢آ  ط¢آ  ط¢آ  ط¢آ  ط¢آ  ط¢آ  ط¢آ  ط¢آ  ط¢آ  ط¢آ  ط¢آ  ط¢آ  ط¢آ  ط¢آ  ط¢آ  ط¢آ  ط¢آ  ط¢آ  ط¢آ  ط¢آ  ط¢آ  ط¢آ  ط¢آ  White Line ط¢آ -- S-
ط¢آ 
ط¢آ  ط¢آ  ط¢آ  ط¢آ  ط¢آ  ط¢آ  ط¢آ  ط¢آ  ط¢آ  ط¢آ  ط¢آ  ط¢آ  ط¢آ  ط¢آ  ط¢آ  ط¢آ  ط¢آ  ط¢آ  ط¢آ  ط¢آ  ط¢آ  ط¢آ  ط¢آ  ط¢آ  Green Line -- S+
ط¢آ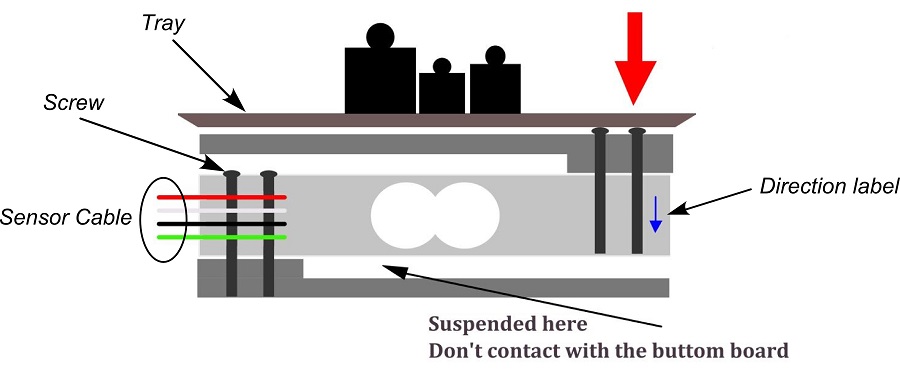 ط¢آ 
Payment & Security
Your payment information is processed securely. We do not store credit card details nor have access to your credit card information.