Description
INTRODUCTION
ط¢آ 
DFRobot's latest generation of digital DHT11 Temperature and Humidity sensor is as powerful as it used to be but easier to use. ط¢آ This ط¢آ DHT11ط¢آ 
Arduinoط¢آ 
temperature and humidity sensorط¢آ has a full range temperature compensation, low power consumption, long term stability and calibrated digital signal. A high-performance 8-bit microcontroller is integrated in the sensor with calibration-coefficient saved in OTP memory to provide accurate temperature readings.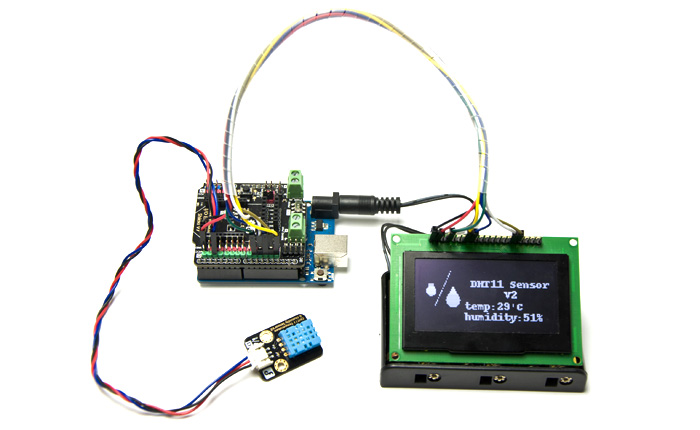 To ease the difficulty, ط¢آ aط¢آ Gravityط¢آ Interface is adapted to allow plug&play. ط¢آ Theط¢آ Arduino IO expansion shieldط¢آ is the best match to connect with yourط¢آ Arduino. As this sensor can work at 3.3V which make it compatible withط¢آ Raspberry Pi,ط¢آ intel edison, joule and curie.ط¢آ 
Temperature Sensor Tutorial:ط¢آ Type Selection of Temperature Sensors
Is it difficult for you to choose a temperature sensor from the maker market that is full of different kinds? Therefore, we have prepared a guide of temperature sensors that compatible with Arduino for your reference.
FEATURES
Standard assembling struct ( two 3mm holes with multiple of 5cm as interval ).
User-friendly interfaces ( "A" for analog and "D" for digital ).
Icons to simplely illustrate sensor function.
High quality connector.
Immersion gold surface.
SPECIFICATION
Wider voltage range: 3.3V to 5V
Temperature range :0-50 ط¢آ°C error of ط¢آ± 2 ط¢آ°C
Humidity :20-90% RH ط¢آ± 5% RH error
Interface: Digital
Payment & Security
Your payment information is processed securely. We do not store credit card details nor have access to your credit card information.