Description
The DFRobotط¢آ Curie Nano is a small development board based on the Intelط¢آ® Curieأ¢â€‍آ¢ module. It is easy to use and perfectly compatible with the Genuino /
Arduino 101
. The small size will fit your project's development and creation that size matters and makes it ideal for wearable tech and small prototypes.
This CurieNano is perfect for gesture control, other than curie's build-in 6axis sensors, the DFRobot CurieNano has added a 3 axis Compass module which make the total sensors up to 9 axis. ط¢آ Together withCurie's neuron SDK, you can easily let CurieNano to ط¢آ learn gesture by deep learning neurons. ط¢آ It is the most powerful board to developwearable applications. ط¢آ 

The Intel Curie module contains a x86 quark core and a 32bit ARC architecture core (Zephyr), integrated Bluetooth 4.0 and 6 axis attitude sensor. The module's clock frequency is0 32MHZ and the cross tool chain of Intel can support the development of two cores. The Intel Curie includes dual core storage and users are able to use 196Kb Flash (total 384Kb) and 24Kb SRAM (total 80Kb). It is more than sufficient for most development scenarios with the added bonus of Intel's strong support network to aid your development.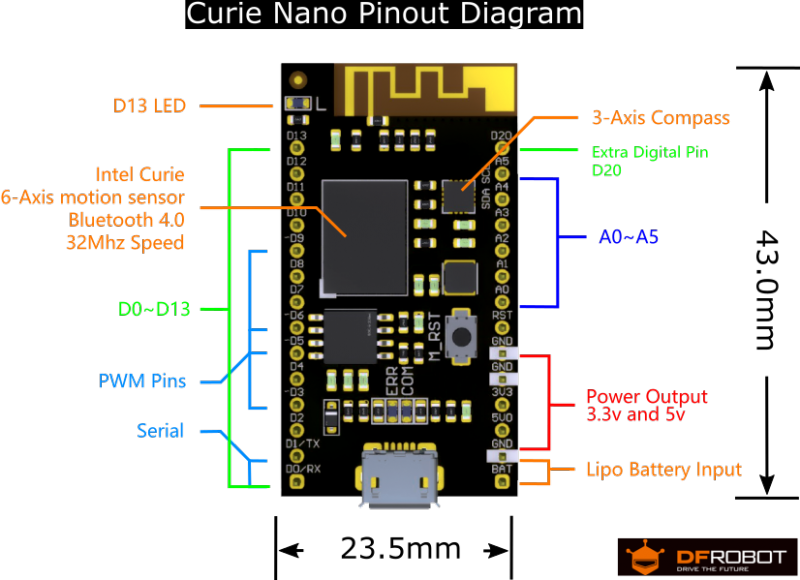 Curie Nano Review by learnelectronics
Curie Nano Review by misperry
Payment & Security
Your payment information is processed securely. We do not store credit card details nor have access to your credit card information.